Metal surface treatment
Experience gained over the years
For many years our laboratory carries out quality controls on pickling and galvanizing lines. Our major concern is to provide quickly reliable results for our clients, allowing to adjust if necessary bath-specific physico-chemical parameters before dipping metal parts.
Solutions fitted customer's requirements
In order to meet client's expectation, our laboratory is equipped with high-performance equipment and automated instruments that can process large sample batches. Results are sent out quickly.
Qualified staff with experience
Our experience and our know-how in this field allow us to treat complex problems and to develop adapted method for each particular case.
Our range of analytical services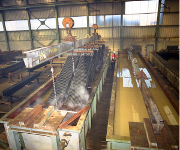 Parameters applied to the galvanizing industry (degreasing bath, pickling bath, fluxing bath and dezincification bath)

Corrosion inhibitors, ph at selected temperature, redox measurement, alkalinity, turbidity point, COD, chlorides, free acidity, fatty matters, NH4Cl, metals (Fe, Zn, ...).

Parameters applied to pickling baths (coil treatment line)

Corrosion inhibitors, density, total iron, ferrous iron, acidity, metals (Al, As, Cd, Cr, Mn, Ni, Zn, ...).

Development of assay methods for the dermination of corrosion inhibitors in pickling baths

We research and develop determination methods depending on the specificity of used inhibitors, allowing to better control their application in pickling baths.
A range of complementary services
We also analyse the following in related fields:
Zinc electrolysis baths:

In order to optimise the electrolysis process for making pure zinc, some of our clients ask us to determine the concentration of trace metals in their electrolysis baths after each production step. Therefore we regularly receive samples which are processed and analysed with very low detection levels.

Example of analyzed sample matrix:
100 g/l Zn
150 g/l H2SO4

Detection limits for the following elements:
Ag, As, Cd, Co, Cr, Cu, Mo, Ni, Sb, Se, V: 0,010 mg/l
Hg: 0,001 mg/l

Chrome plating bath, nickel plating bath, tin plating bath, copper plating bath and anodizing bath
Rinse baths after degreasing and pickling